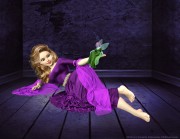 CG Elves releases 1st ever professional training program to help DAZ 3D users to create any kind of beautiful dynamic clothing for their DAZ 3D models.
Miami, USA, March 18, 2016 (Newswire.com) - CG Elves releases 1st ever professional training program to help DAZ 3D users to create any kind of beautiful dynamic clothing for their DAZ 3D models.
Daz Studio [DS] is a popular free software for posing 3D models. It is used by tens of thousands of CG artists worldwide. DAZ users use the DAZ models - and need to purchase clothes to dress them.
Mastering marvelous designer is an excellent course that guides you step by step in learning one of the key sofwares in any character modeling pipeline when it comes to the creation of realistic clothing. Starting from the basics of the sofware, the course gradually introduces you through detailed video tutorials to the creation of piece of clothing of increasing complexity, in particular the workshop tutorials and theme exercises are extremely useful to anybody who wants to achieve realistic looking clothing and garments.

Alessandro Baldasseroni, Character Artist - Riot Games Studio
Until now, DAZ users had to buy the available conforming DAZ clothing for their 3D DAZ models.
Conforming clothing does not look realistic and does not drape differently for different poses, as real-life clothes do. Conforming clothes like dresses are difficult to use in a particular pose the artist has in mind. If the clothing has no pose morphs, it will stretch or bend in a very odd plastic looking way.
Some confirming clothes have morphs, but then the artist is limited to those poses and to the talent of the vendor making those clothes.
DAZ users who mostly don't know to use 3D modeling software tools to sculpt clothing, are limited to whatever available clothing items are sold in The DAZ marketplace for their particular 3D model. They cannot create fantasy clothing they have in mind and waste a lot of time hunting in DAZ and Renderosity marketplaces for 3D clothes.
Another problem DAZ users face, is that some available conforming clothing is only for a certain 3D model and cannot be used for other models.
All this is now finally about to dramatically change, thanks to the Marvelous Designer software (MD5).
With the Marvelous Designer cloth simulation software artists can quickly create realistic clothes in any pose for their 3D models.
MD5 has been around for several years, but was practically unknown to DAZ artists. Those who did discover its existence found it far too challenging to use, as no Marvelous Designer beginners course or workshops existed.
There was no proper training video tutorials for Marvelous Designer users.
Artists had to try and figure out how to use the Marvelous Software on their own.
As the French character artist Arthur Gatineau says: "I knew (MD) a tiny bit before, but I was mad each time I used it, nothing was working, it was so frustrating."
Additionally, since the Clo3D Marvelous Designer software is pattern-based, the artists need clothing patterns. These are hard to find, and real-world sewing patterns are difficult to understand and challenging to trace into the Marvelous Designer software.
CG Elves solves the problems DAZ users face and helps these artists to create amazing clothing that looks realistic for any pose of their 3D model.
CG Elves offers a complete beginners course covering all aspects of the Marvelous Designer software, as well as hands-on clothes making workshops covering all artists need to know about making clothes in Marvelous Designer.
Check out the highly acclaimed Marvelous Designer Course here: https://CGElves.com/LearnMD
About:
DAZ 3D Studio is a popular software to pose 3D models. Artists use the DAZ models for 2D and 3D art mainly for book covers, comic book art, character concept development, film environment development, commercial previz etc.
CG Elves was co-founded by Camille and Eileen Kleinman.
CG Elves helps 3D artists to master new skills and challenging software tools which are essential in their workflow.
Share: